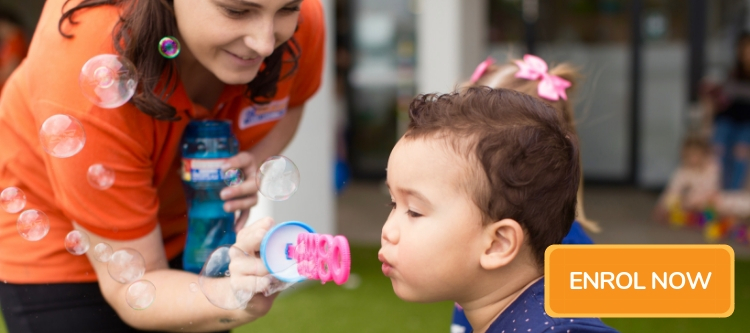 Oz Education Homebush childcare centre offers a safe, stimulating and nurturing environment where every child is able to play, grow and reach their potential.
Places for 2019 is full. To join our 2019 waitlist or secure a place for 2020, please call 1300 644 125 or book a tour.
Why you'll love our Homebush childcare centre
A stimulating curriculum that encourages creative exploration and play-based learning.
Large, purpose built indoor and outdoor play areas.
An  Advantage Preschool Program that helps little ones prepare for big school.
Caring teaching staff who are university qualified, permanently employed and trained regularly.
Four freshly prepared and nutritious meals, each day.
Cost-free provisions including nappies and bed sheets
A wide range of interesting activities from art, music to dance
Regular  dental and eye sight assessments.
Opens 52 weeks a year from7am to 6pm.
Flexible  full day session, 10 hour session or a 9 hour session to help you get the most out of your child care subsidy.
Book a Tour
To book a tour, call us on 1300 644 125 or use the form below.
What our parents says
John and Natasha
"I enrolled my daughter at Oz Education Homebush childcare centre when she was only 4 months old. It is the hardest decision any parent has to make. We had previously attended two child care centres and it just didn't feel right. On my very first visit to Oz Education it was so pleasant and inviting, it felt really homely. I just knew this was the place for my daughter. Belinda answered all of my questions and was so supportive during what was a difficult time. On the first day I was advised I could call anytime to see how she was doing. And they meant it. Whenever I called, they would check in on her and let me know how she was doing. I feel like the staff treats my daughter in the way I would. My husband and I love Oz Education – the love and care they provide to my daughter is priceless."
John and Natasha
"Amelia will be so sad to leave such a wonderful place. The teachers have been amazing and made my little girl grow into a confident person. I couldn't recommend Oz Education Homebush childcare enough. John and I would like to thank all the staff from the bottom of our hearts."
Asif
"Watching my children grow over the last 4 years at Oz Education Homebush childcare centre has given me the confidence that they are not only in a safe environment, but also a happy one. This year my 5-year-old will embark on a new journey at 'big school', and I have no doubt that his self-esteem and confidence levels have been fostered by the wonderful team at the Belfield centre. Oz Education has truly allowed my two boys to feel like they are a part of a greater family and it is clear through their smiles that this centre is not only a 'school' where they learn and play but rather a second home. "
Find our Homebush centre
Suite 1, Building I/81-86 Courallie Ave Homebush West 2140 l 02-83553750

Our Homebush childcare centre is conveniently located in the heart of Homebush West, surrounded by homes and is near to Flemington Markets. It is situated only a 2-minute drive from Homebush West Station and a 100-metre walk to the local park. The childcare centre houses five classrooms and two large playgrounds and on-site parking which makes drop-offs and pick-ups safer and more convenient for you and your children.