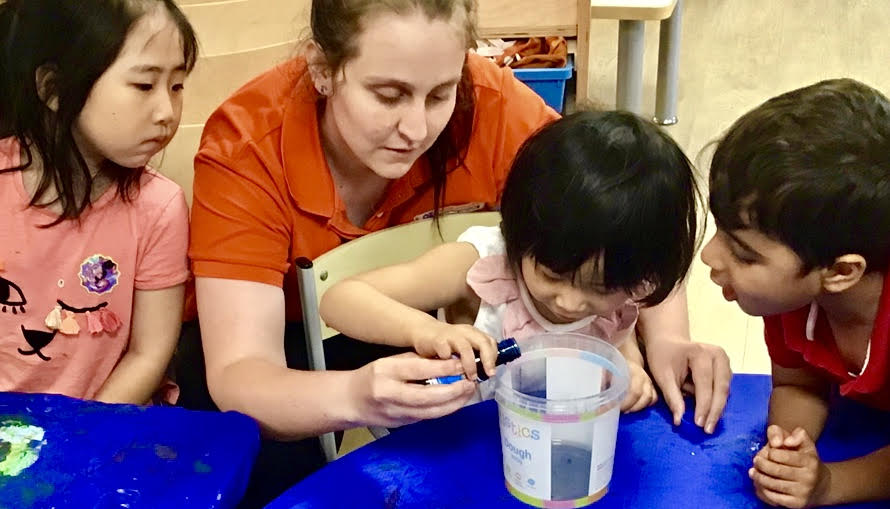 Oz Education children have been discussing about how New Year is celebrated in Sydney and around the world, which sparked an interest in running a science experiment – fireworks in a jar!
The children decided to make their very own 2018 Welcome fireworks, except it wouldn't be on the Sydney Harbour Bridge, but in modest recycled containers.
Old jars and bowls were sourced by our little sustainable-minded scientists and their educators.
After a demonstration by our educators, each child had the opportunity to give the experiment a go.
The children loved observing the reaction of vinegar touching the bi-carbonate  – the glitter and food colouring bubbled to the surface making it look like fireworks in a jar.
They hid glitter and food colouring under some bi-carbonate soda. Using a dropper, they added little drops of vinegar.
Other groups of children, mixed oil and food colouring together and gently dropped the mixture into a jar of warm water.
The children enjoyed seeing the colours flow down and form a shape like a fire work.
They discussed the density of each liquid, and how food colouring drops into the water, but not oil (because it's denser) and dissolves quickly, creating the tiny explosion of colours like a firework.
The Sydney fireworks was definitely a hot topic. The children ran multiple experiments and varied their experiments by adding in different colours which they found, formed into one colour!
"Young children are naturally curious little learners. At Oz Education, we guide and encourage our children to discover, explore and develop new skills and a love for learning that will carry them well beyond their early years, " says Belinda Aliaga, Centre Director for our new Homebush Early Learning Centre."
"We also help our children to develop a sense of responsibility for their world by adopting sustainability practices into our daily curriculum."
"Earlier this year, they learnt the importance of recycling and made recycled paper during National Recycling Week. It's lovely to see them building on what they've learnt and applying it to these experiments."
For more information, please call us on 1300 644 125 or find a centre.