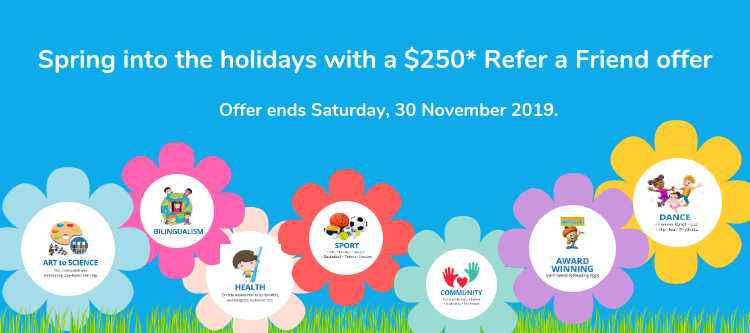 At Oz Education, we love our community. Here's a special Spring offer to say thanks for sharing your wonderful experiences at Oz Education with your family and friends.
It's simple – refer a friend to Oz Education and you both will get $250* off when they enrol*. The best part? There's no limit to how many people you can refer.
Once we receive your friend's details, we will send them the special enrolment offer of $250 credit*. Offer ends 30 November 2019.
Refer a Friend Today
*Terms and conditions apply:
Receive a $250 credit once your friend's child commences childcare (by 1 February 2020) at all Oz Education centres except our Lidcombe centre, and remain enrolled for 3 months. This offer will end on 30 November 2019 . This exclusive offer is open to only enrolled parents, and by invitation to their friends only via our Refer A Friend Program and cannot be combined, or used in conjunction with another enrolment offer. Please mention your friend's name when you enrol. Enrolments must be for a minimum 2 days per week. If your child's enrolment is cancelled for any reason or you have provided notice of your intention to terminate your child's enrolment at any time prior to 3 months after your child's childcare commencement date, you will be required to refund the $250 credit. You authorise Oz Education to deduct $250, from any initial payment held by Oz Education as a security bond. This offer is not transferrable or exchangeable and cannot be redeemed for cash. Oz Education reserves the right to amend or withdraw this offer at any time without notice.
For more information, please contact 1300 644 125.