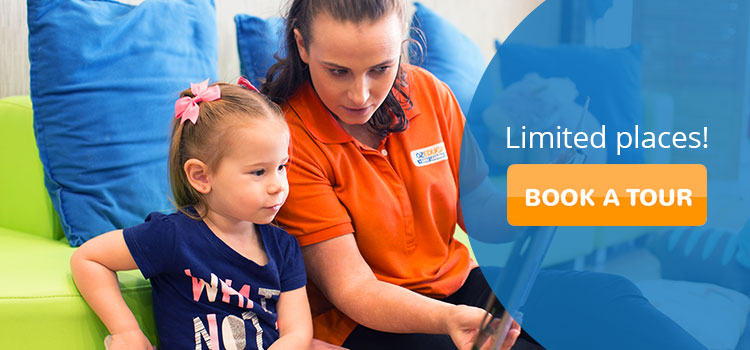 Giving every child the best start in life
Since 1981, Oz Education has successfully partnered with families to create the best outcomes for every child in our care, from aged 6 weeks to 6 years old.
Our early learning centres offer modern facilities and spacious indoor and outdoor areas designed to support each stage of your child's emotional, social and physical development.
The wellbeing of every child is our priority.  We nurture a caring culture within a warm, loving and inclusive environment where every child feels they belong.
Learning today, leading tomorrow
Guided by our motto Learning Today, Leading Tomorrow, we offer a balanced early education through our vast range of academic, co-curricular, health and wellbeing programs.
Our holistic approach not only enhances learning, but develops vital cognitive, problem solving, physical and social skills that will help your child to thrive and succeed during the early years and in the future.
Each day, our qualified educators will guide your child to not only discover, explore and develop new skills, but a love for what they are learning, through our fun, play-based curriculum that is personalised to the unique interests and abilities of individuals or small groups.
Supporting families all the way

At Oz Education, you will have the peace of mind that everything your child needs is provided each day. We extensive, hassle-free services to support you including:
four freshly prepared, nutritious meals by our on site chef or cook
free regular dental, eyesight and hearing assessments
free baby provisions eg nappies & bed sheets
online app updates on meal, play and sleep times, and learning outcomes
multi-cultural, family-oriented community events
extended care hours from 7am – 6pm all year round (for all ages)
flexible  full day session, 10 hour session or a 9 hour session to help you get the most out of your child care subsidy.
open 52 weeks per year, from Monday to Friday (excluding public holidays only)
We'll also work with you to understand and support your family and child's unique needs, from orientation, flexible hours, special dietary needs, maximising childcare subsidy, school transition till graduation.
So at every stage of your child's growth and development, you can have the peace of mind that your child is getting the best care.
Make an enquiry
You're welcome to call us 1300 644 125 or visit our centres.