Oz Education child care centres offer a safe and nurturing environment for babies, toddlers and preschoolers. Each child care centre offers bright and spacious play rooms and play grounds, as well as exceptional early learning programs that inspires your child to discover, learn and thrive throughout their early years. Our qualified educators ensure learning is fun and suited to your child's needs, abilities and interests, which develops a love for lifelong learning. Give your child the best start at Oz Education. Call us on 1300 644 125 or visit one of our childcare centres below.
Child Care Centres in Sydney & Central Coast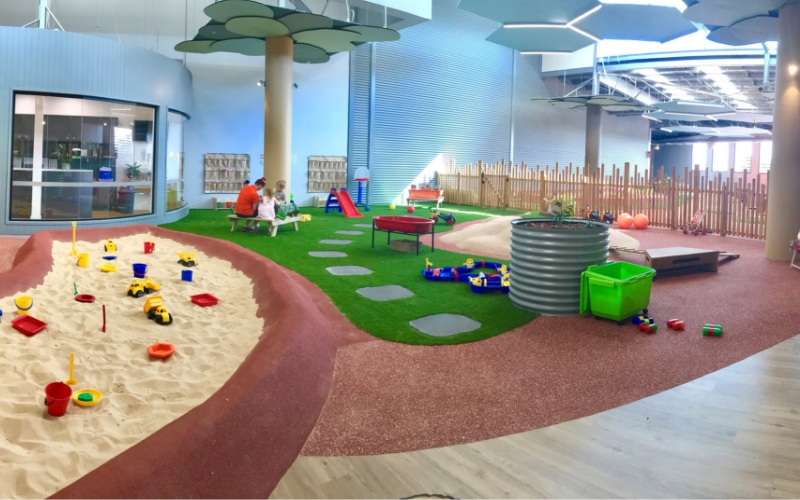 Tuggerah
Level 1 Tuggerah Super Centre, Wyong Road, Tuggerah 2059 NSW.
Phone:
1300 644 125
Hours: 6:30am – 6:30pm
Why parents love our child care centres
Yvette
"I am grateful for all that Oz Education has done for my children over the past 4 years. My son Joel recently commenced Kindergarten and thanks to the wonderful staff and program at Oz Education he has thrived in his first few weeks of primary school.
Sending my two children to Oz Education has been one of the best decisions that I have ever made. The staff are absolutely wonderful and they work so incredibly hard. Each week I am blown away by their positive attitude and commitment to creating new ideas for learning.
From day one when I dropped my son to the Platypus room as a 13 month old, I felt so reassured that my children were in the very best of hands. It is an absolute credit to the staff who continue to support not only the children but all of the parents at every opportunity possible.
I also absolutely adore the community that Oz Education child care centres offer. I have developed many strong friendships with not only the other parents but some of the staff too."
Kat
"Our baby has been at Oz Education since she was 4 months old. It was hard leaving her on the first day but I could check in whenever I wanted to. The staff are very helpful and understanding. Our baby is one now and she never wants to leave care. She loves it when her teachers reach out for her when we arrive. She comes home every week with some new, fantastic skill."
Leesa
"It takes me a long time to convince my daughter to come home with me. That's how much she loves Oz Education!
My daughter has a great time at Oz Education every day. When I ask her what she did she always responds with "I had fun!" but I know she is learning lots which are evident when she comes home asking lots of questions and telling me new things.
I am mostly very happy and proud of the bright little person she is blossoming into, thanks to the caring, educationally conducive and happy environment that Oz Education child care centres provide.
I don't know where I would have been without their understanding and support throughout the past 3 years and we absolutely LOVE the teachers there!"
Asif
"My family and I want to extend our thanks and gratitude to the staff of Oz Education. Their early learning programs are exceptional as it helped Riyad develop confidence and independence prior to school. I am looking forward to having my second baby commence with Oz Education child care centre in the next few weeks! Keep up the great work!"