Get The Most Of Your Child Care Subsidy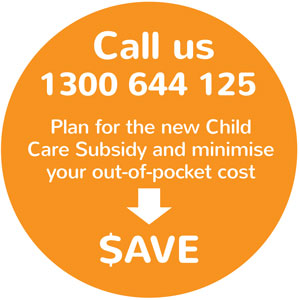 The new Child Care Subsidy (CCS) came into place on 2 July 2018, replacing the previous government subsidies – Child Care Benefit (CCB) and Child Care Rebate (CCR).
Oz Education supported families through the transition to the new Child Care Subsidy, guiding them to understand how much they are eligible for and how they can lodge their assessment.
We are also offering families flexible childcare hours to help them get the most out of their subsidy. These flexible options will help them minimise their out-of-pocket expenses as it will enable them to choose between a Full Day Session, 10 Hour Session or a 9 Hour Session, which could give them more childcare hours and subsidy that they need.
Call us today on 1300 644 125 to find out how you can minimize your out-of-pocket costs or to discuss the new subsidy changes and your personal circumstance.
New Enrolments – Questions About Child Care Subsidy
If you would like to place your child with Oz Education, you can claim the Child Care Subsidy after you enrol from the date you lodge your assessment.
If you have any questions about the CCS or if you need help understanding your eligibility or lodging your assessment, please call our Customer Service Team at 1300 644 125 or make an appointment.
Alternatively, you may visit our centres and chat to our Centre Directors in person and discuss your personal circumstances.
Discuss Your Child Care Subsidy With Us
Book an Appointment
For more information about the new CCS, please read our Child Care Subsiby guide.