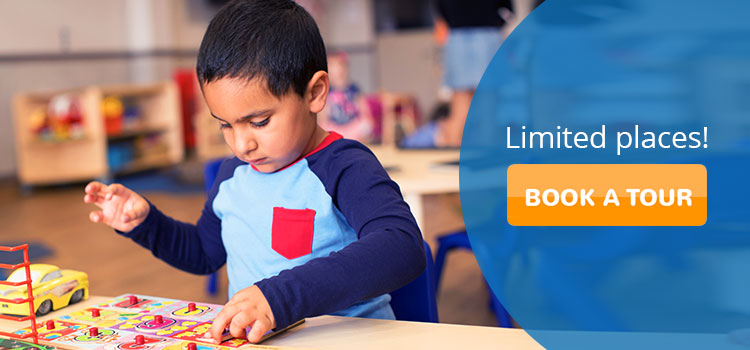 Oz Education Lidcombe childcare centre offers beautiful, large sun-filled rooms and spacious learning and play areas. Places are limited. Please call us at 1300 644 125 or book a tour today.
Why you'll love our Lidcombe childcare centre
A stimulating curriculum that encourages creative exploration and play-based learning.
Large, purpose built indoor and outdoor play areas.
Our  Advantage Preschool Program helps your child develop new skills and reach their potential.
Caring teaching staff who are university qualified, permanently employed and trained regularly.
Four freshly prepared and nutritious meals, each day.
Cost-free baby provisions including nappies and bed sheets
A comprehensive range of extra-curricular activities to meet your child's unique needs, skills and interest, from language, sport to dance.
Regular on-site dental, sight and hearing tests.
Visit our Lidcombe centre
We welcome you to visit our centre and find out more. Please contact us or call 1300 644 125.
Book a Tour
What our Lidcombe community says
Hear from Lauren
"We love Oz Education Lidcombe! The Centre and playgrounds are beautiful and immaculate. The staff genuinely care about your child and family, and they create a very warm and happy environment. Oliver's teachers provide a fun and educational program every day – he doesn't want to come home in the afternoon!
They know his likes and interests and engage him in activities around these. His routine between home and childcare is seamless, which makes our lives so much easier!
Updates are provided throughout the day in the Oz Education app, which allows us to find out what he is learning about and reassures us that he is having a great time while we're at work.
We would highly recommend Oz Education Lidcombe to any family looking for childcare."
Find our Lidcombe centre
31 Swete St Lidcombe 2141
Oz Education Lidcombe Centre is conveniently located in the heart of Lidcombe, surrounded by homes and the local school. The centre offers several purpose-built facilities including on-site parking which makes drop-offs and pick-ups safer and more convenient for you and your children.
Keep in Touch
Subscribe to our eNews and receive regular updates, events and special offers.
Subscribe