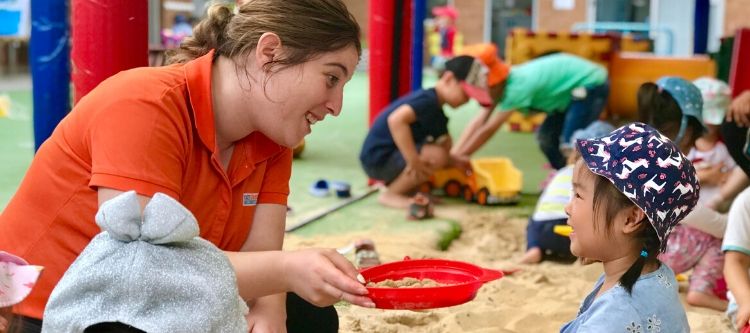 Established in 1981, Oz Education Early Learning Centres is a trusted name in early education and child care. We offer quality preschool programs and long daycare for children aged 6 weeks to 6 years old. Living by our motto 'Learning Today, Leading Tomorrow' our Campsie childcare centres provides a stimulating learning environment where every child thrives and belongs.
To secure a place for your child, call us on 1300 644 125 or book a tour today.
Why you'll love our Campsie centre
Caring educators who are qualified and trained regularly.
A stimulating curriculum that encourages creative exploration and play-based learning.
Customised Advantage Preschool Program that offers a structured program supported by award-winning resources – MathSeeds and Reading Eggs.
Free on-site dental and eyesight assessments and talks by qualified professionals.
Weekly dance classes by trained dance teachers – Ballet, Hip Hop, Jazz and Rhythmic
Weekly fitness and sports sessions by trained coaches – AFL, Hockey, Tennis and Cricket.
All meals, nappies and bed sheets are provided for your convenience.
Community events and incursions all year round.
Strict health and safety policies.
Opens 52 weeks in a year, from Monday to Friday 7am to 6pm.
Online app that updates you on meal, sleep and play times and learning outcomes.
Four freshly prepared, nutritious meals each day.
Save with Flexible Hours
Are you volunteering, planning to work, self-employed, studying or a single parent? Our centre is approved for Child Care Subsidy and we offer flexible hours –  11-hour, 10-hour or 9-hour sessions to help you save on your child care costs. Your childcare cost could be as little as $20, depending on your entitlements.
Quick Enquiry
For more information, call us on 1300 644 125 or use the form below and will get back to you shortly.
Take a look at our centre
What our parents say
Merilyn
When I enrolled my children in Oz Education Belfield this year, I never imagined that my children's confidence, social skills, knowledge and happiness would progress so rapidly within five short months. It is all due to the fact that the educators are not only fantastic teachers but are genuinely interested and aware of the needs of each of my child.
I would especially like to thank the educators. The patience, love and care that they've demonstrated towards my children have made the beginning of their education a positive one. I honestly have nothing but the utmost appreciation for every staff "
Amelia
"Having two kids, working and studying part-time, it was great to know that there was an early learning childcare centre I could depend on. Oz Education has a great preschool program and excellent staff that I can honestly say are my friends."
Jess
"My 2-year-old daughter Pippa has been attending Oz Education Belfield for almost 2 years now, and she loves it!  She is always talking to Miss Nonie or Miss Rachel on her plastic phone when she's at home and has a lot of happy stories to tell me of her adventures there.  I have found the staff to be friendly, professional, helpful and trustworthy at all times.  The time and energy they give to my daughter have certainly made her very happy every day. Recently, I was presented with a portfolio of Pippa's artworks and experiences, this is a wonderful memento which I will keep forever. The portfolio displays the dedication of the staff to each child. The Oz Education App is also a very useful tool which I use whenever I need to access information and see what else is happening at Oz Education. I enjoy receiving monthly newsletters which also updates me with details I need to know about the Belfield centre.  Overall, I am a very happy mum."
Visit our centre
80 Lincoln Street, Belfield 2191 l 02-9718 7092
Located 5 minutes drive from Campsie Shopping Centre, local schools and a short walk to the bus stop, our centre is well known by the local community since it commenced in 1984. The childcare centre boasts of safe, spacious and light-filled rooms and two large outdoor playground areas.