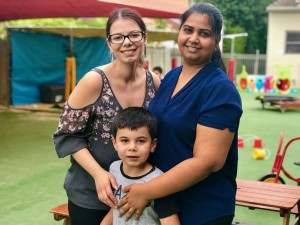 Choosing the best childcare with an outstanding preschool program for her son Jerry, was a priority for Mona. That's because Jerry, who was then two years old, has a congenital heart defect. His mother Mona remembers that it was a very difficult decision and she wanted to choose the best childcare centre for her brave little boy.
"I wanted a first-class childcare centre that was trusted for excellence in child care. Oz Education's established centre and nurturing, homely environment put me at ease right from the start. It ticked all the boxes – their teachers were qualified and experienced, the centre is safe and clean, and their on-site cook prepares freshly prepared, nutritious meals every day. "

"From our first day up till our last day, Oz Education has proven to be the best childcare. The support at the childcare centre has been outstanding – it is like a second home for Jerry. His teachers knows his limits and are always there for him. Knowing that he is in a safe and nurturing place, gives me peace of mind."
"The past few years have also proved to be a tremendously fun learning journey for Jerry who has struggled with learning due to his condition."

Oz Education's play-based, tailored preschool program has helped Jerry build new skills based on his stage developmental needs and unique interests.

"We make learning fun. Our teachers also provide extended learning opportunities to further enhance each child's cognitive, social, emotional and physical skills, in preparation for school and for life," says Nishi Gupta, Centre Director at Oz Education.

"Jerry started with us in the Baby Early Learning Program. Over the years, we have loved seeing him grow and thrive with confidence. I can proudly say that he has acquired a strong set of  skills that will help him when he starts school."
Today, like most kids his age, Jerry loves playing soccer, eating pizza and spending time with his older brother and friends. Active, smart and passionate about learning, no one would not have guessed that the brave little boy has a congenital heart defect.
Mona is delighted to see the progressive development. "It gives me tremendous joy to see how Jerry is able to sit and listen to his preschool teachers and actively participate during news time, just like he would in a formal school setting." 
"He can spell his own name, identify shapes, colours and numbers, he can even sing in Mandarin and he knows a variety of sport and dance moves! We're glad we don't have to hold him back from starting school this year, thanks to his wonderful learning journey at Oz Education. They are definitely the best childcare centre around, and I can't recommend them enough."
Jerry will start school at St Mel's Catholic Primary School tomorrow.

Subscribe to our newsletter
Subscribe to our eNews and receive regular updates, events and special offers.
Subscribe