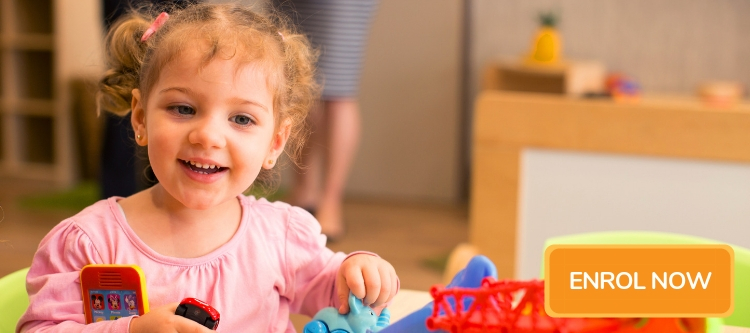 Oz Education Auburn childcare centre provides a safe and nurturing environment for your child to grow, discover and be inspired. Places for 2019 are full. To join the wait list, please call us on 1300 644 125 or book a tour today.
Why you'll love our Auburn child care centre
A stimulating curriculum that encourages creative exploration and inspires a love for learning.
Spacious, sun-safe indoor and outdoor play areas.
Our well-structured  Advantage Preschool Program that helps little ones develop new skills and prepare for big school
Caring teaching staff who are university qualified, permanently employed and trained regularly.
Four freshly prepared and nutritious meals, each day.
Cost-free provisions including nappies and bed sheets
A comprehensive range of extra-curricular activities to meet your child's unique needs, skills and interest, from language, sport to dance.
On-site dental, hearing and eye sight assessments.
Flexible  full day session, 10 hour session or a 9 hour session to help you get the most out of your child care subsidy.
Join the waitlist
If you'd like to discuss your childcare needs, please call us on 1300 644 125 or book a tour.
Join the waitlist
What our Auburn community says
Vanessa
"As an anxious first-time mum, I was nervous about choosing a childcare centre for my daughter. Then I stumbled across OzEd and I was immediately impressed with the facilities and the kind, friendly nature of the staff. I have never looked back, my daughter smiles from the moment she gets there each morning and is full of fun stories and news each evening. We couldn't be happier with the care they provide to our daughter."
Simone
"This centre has been absolutely amazing for my son. The teachers are sensational and are truly caring and supporting people. the Centre Director has been phenomenal. She has run the centre with passion and the utmost professionalism. The centre provides a fantastic program for all ages, and I would highly recommend this centre to anyone."
Hanade
"Over the years my daughter has learnt so much from her teachers. She loves going to school which makes my life easier. Her teachers are passionate and show affection towards her. She has learnt to trust and respect them. Overall, I am pleased with the centre and the staff members. I would highly recommend Oz Education Auburn to any parent that is concerned about sending their child to childcare."
Pradnya and Sumeet
"Over the past 9 months, Avyukt has enjoyed each and every bit of school. He loves spending time with all his teachers and has learned a lot from them. The care and affection shown by all his teachers are what makes him super excited to go to school each day. For working parents like us, knowing that your child is enjoying school is very helpful and this allows us to focus on our work. A big thank you to all the teachers and staff at Oz Education Auburn for their wonderful work. We can't help but continue to go over the student portfolio book, which has documented Avyukt's learning activities in detail throughout his time here. Well Done! I would highly recommend Oz Education Auburn to all parents!!"
Find our Auburn centre
115 Harrow Road, Auburn 2144 l 02-9643 5009
Located only 3 minutes drive from Auburn Central and 5 minutes to Auburn's recreational area. Our centre is known in the area for having a warm and welcoming atmosphere since Oz Education gained possession in 2011. Oz Education Auburn has 2 large playground areas, one of which is undercover for our youngest children, and 4 classrooms including our separate preschool room where our Oz Education Advantage Preschool Program takes place.

Keep in Touch
Subscribe to our eNews and receive regular updates, events and special offers.
Subscribe